Slowly but surely summer is coming to an end. It's been a pretty hot summer this year which I hope left you with lovely memories and new friends. Nights in Croatia are getting colder now but days are still hot which made me think about easy ways to cool down.
Elderflower juice with lots of ice is usually my favourite to battle the heat, but I wanted to make something better. Something that's more nutritious and energising but still delicious.
Since it's summer it means a lot of tasty fruit is in season and we have to take advantage of that. Sometimes it's hard to stick to your five-a-day so smoothies are a perfect way to do that.
Today I have for you 3 refreshing smoothies to help you battle the heat of long summer days. But don't think these smoothies are only for hot days. If you're cold or the weather is bad bring a little summer and sunshine into your home by trying some of these smoothies.
Enjoy!
3 Refreshing Smoothies For Hot Summer Days
---
1. Cherry Coconut Smoothie
How can one's summer go without cherries? The deep red, sweet, juicy deliciousness. Unfortunately, cherries are not in season for long but they carry many nutritional benefits so make the most of them before they're gone.
Cherries are a good source of potassium, vitamin A, calcium, folic acid and fibre. They are packed with antioxidants and help control blood pressure. Also, if you struggle to fall asleep, try eating more cherries on daily basis because they contain melatonin (hormone which regulates sleep).
Even though I think cherries are the sweetest when you eat them directly as you pick them from the tree, this smoothie will add a pop of summer to your drink. Add refreshing coconut water and lime and you really do have summer in a bowl!
Coconut water helps replenish electrolytes due to high potassium content, it boosts energy and is rather refreshing on a hot summer's day.
Lime is a tiny green super fruit. It's high in vitamin C (around 32% of your daily intake) and is a great source of minerals such as iron, copper, calcium, magnesium, sodium and other. Furthermore, it is a good source of vitamins A, K, E and folic acid.
Ingredients:
2 cups cherries (pitted)

1 cup coconut water

1 tablespoon fresh lime juice
Directions:
Combine all ingredients in a blender and blend until smooth.
2. Watermelon Lime Refresher
Sipping on a watermelon smoothie on a hot summer's day is soooo refreshing and nice. Especially if you drink it in the shade as you smell and feel the breeze across your face and through your hair.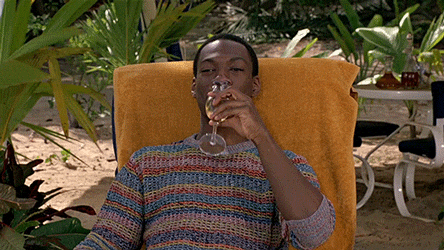 Watermelon is low in calories and high in vitamin C and A, antioxidants and amino acids. It is perfect for hot days due to high water content (92% water) so it helps you hydrate. Because watermelon is almost all water is makes you feel full for longer.
It contains lycopene – phytonutrient that has been linked with heart & bone health and prostate cancer prevention. Other than being really beneficial for your health, watermelon tastes ah-may-zing! I say make the most of the watermelon season, eat it on its own, mix it into smoothies, make a salad with it or make it into juice pops.
One tip before you start making this smoothie:
Since watermelon is very watery your smoothie will turn out watery as well. If you don't want that and want it more like slushy texture then you will have to pre-freeze the watermelon. Cut your watermelon into small chunks (only flesh, no peel) and take the time to pick out all the seeds. Place watermelon chunks into freezer bag and freeze for 6 – 8 hours.
Strawberries are optional in this recipe so if you're unsure make one smoothie with and one without strawberries. They will add a bit of sweetness to the drink and they go nicely with the watermelon.
Because strawberries are packed with vitamins and minerals and are rich in fibre and antioxidants they bring amazing health benefits. From improved heart health and anti – aging effects to reduced hypertension and boosted immunity.
Ingredients:
2 cups watermelon (seedless and peeled)

½ lime juice

Water

Ice cubes

Handful of strawberries (optional)
Directions:
Combine all ingredients in a blender and blend until smooth.
3. Summer Sun Smoothie
Last but not least, bring a little sunshine with this refreshing smoothie. It tastes awesome and will make you forget about how hot it is outside in seconds.
In this smoothie, out of the fruit, we will be using oranges, raspberries and bananas. In one word – yum!
Oranges are mostly known for their benefits during winter cold/flu season and even though it hasn't been proven that they help with cold/flu, they definitely aid your well – being.
Bursting with vibrant orange colour, oranges are packed with vitamins (C, A and B), minerals (calcium, potassium), fibre and antioxidants.
Oranges boost immune system, lower cholesterol, promote heart health, regulate blood sugar, they're good for respiratory system and help you achieve radiant, glowing skin.
Raspberries are rich in antioxidants which can help fight ageing and prevent cancer. These delicious, soft, juicy berries maintain cardiovascular and eye health, boost your mood and memory, have anti – inflammatory properties and aid in weight loss.
Coming to the most popular fruit in the world – bananas. Bananas contain a good amount of fibre, potassium, vitamin B6 and manganese, as well as other vitamins and minerals. They can help lower blood pressure and reduce the risk of cancer and asthma. Due to fair amount of fibre, bananas aid in digestion and help promote regularity.
Last ingredient we will be using in this refreshing smoothie is mint leaves. Mint is well – known mouth and breath freshener. Aside that, mint aids in digestion, helps with nausea and headache and aids in weight loss.
Ingredients:
2 oranges (peeled and segmented)

½ cup fresh raspberries

1 medium banana (peeled)

3 fresh mint leaves

Water
Directions:
Add all the ingredients to a blender and blend until smooth.
Let me know in the comments which of these refreshing smoothies is your favourite and what else you like to do to cool down on a hot day when you're stuck at home.
Stay awesome,
M, xo